Europe, 1999
Serge Bigotto and I flew n1421z to Europe this June. Here's where we went: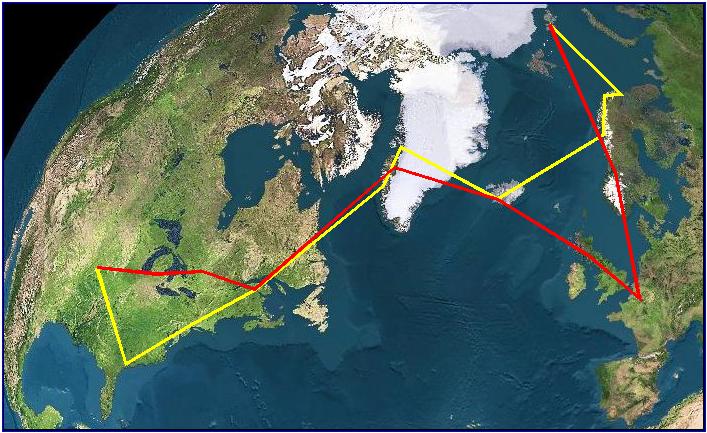 The yellow line is the trip there, from Claremore airport to Hilton Head, then to New York to pick up Serge. From there:
1. Goose Bay Newfoundland, spent the night. This was our last "night" for 6 days.
2. Nuuk, Greenland, fuel
3. Ilulissat, Greenland, spent the night (midnight sun).
4. Raykjavik, Iceland, spent the night
5. Bodo, Norway, fuel
6. Tromso, Norway. We were told we couldn't go to Spitzbergen that day (Sunday).
7. Kirkenes, Norway. Landed about 5 miles from Russia, northeastern Norway. Spent the night
8. Longyearbyen, Norway (Spitzbergen). 78 degrees N. Latitude, spent two days.
9. Trondheim, Norway, fuel.
10. Paris, France, delivered Serge.
11. Glasgow, Scotland, spent the night. First time it was dark enough for stars since Canada.
12. Reykjavik, Iceland, fuel.
13. Sondre Stromfjord, Greenland, fuel
14. Goose Bay, Newfoundland, spent the night. Canada Day!
15. Val D'or, Canada, fuel.
16. Springfield, Missouri, Customs. The only time I had to show my passport the entire trip.
17. Claremore, OK airport.
Click here for Ilulissat Pictures
Click here for Norway Pictures
Click here for Spitzbergen Pictures